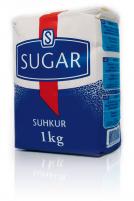 Antomin Sugar
Designed in 2001 to be a "generic" brand, this brand is so sucessfully anonymous that it has become an icon for journalists when reporting on the issue of Estonian sugar and the EU.

A ficticious brandmark of a stylised "S" anchors the generic product name on a red vertical band which "seals" the pack folding - the actual producers name appear only in address. Strong use of colour and contour makes this pack work very well in repetition on the supermarket shelf. The buldging shapes of the design extend around the corners to add volume. Visual clues of a sugar grain patern render the design language neutral, while the sides carry 6 baltic/nordic laguages.

Designed for very cheap, simple 3 solid colours printing, and allowing for loose (fast, low waste) claibration during the packaging process.