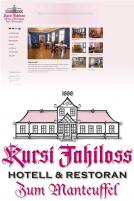 Kursi Jahiloss
Kursi Jahiloss, hotel and restaurant decided to build image on associations with Baltic-German noble personalities, so I agreed with the client to explore a Gothic calligraphy solution. The illustration of the building is itself drawn in a calligraphic pen and ink style. The resulting architectural motif is whimsical, and eclectic to communicate the spirit of the place and is suggestive of something you might find on the label of a good bottle of wine.
I normally avoid gothic scripts in logos, yet in this case it is fully justified. I have customized each of the letters to help with legibility. The solution allows for different combinations of restaurant and/or hotel logos.

The weight of the line in the logo allows it to be printed at minimum size on business cards - on the other hand, the calligraphic style will show out lots of interesting detail when the viewer is up close to a large sign with the logo.

Printed materials, signs and website have been designed, but have not yet gone into production. This has been an interesting project so far, yet it remains to be seen how it will be completed.